Global EV Battery Sales in 1H 2022
The global sales of electric vehicles (BEV+PHEV) aggregated by SNE Research in 1H 2022 was 4.35 million units, recording a 65% YoY increase. The following table shows the total sales and sales volume (MWh) of global EVs based on the performance figures announced by cell manufacturers and Tracker data and reports released by SNE Research.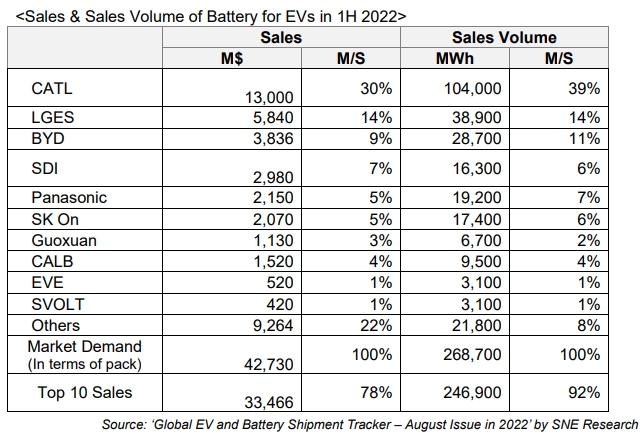 The 1st place was taken by CATL in the ranking of EV battery sales with overwhelmingly high sales and volume, followed by LGES and BYD in the 2nd and 3rd places, respectively. Samsung SDI, which focuses more on PHEV than the other EV types, was found to have a relatively higher sales compared to the battery usage. Panasonic from Japan ranked 4th, while SK On, exhibiting the highest growth among the K-trio, took the 5th place.
The following chart shows the selling price of battery pack ($/kWh) calculated from the table above. While Samsung SDI sold its batteries at the highest selling price of 183$/kWh, Guoxuan and EVE from China had the next highest selling prices. Panasonic, whose sales mostly focused on cylindrical cells sold to Tesla, had the lowest selling price in the market.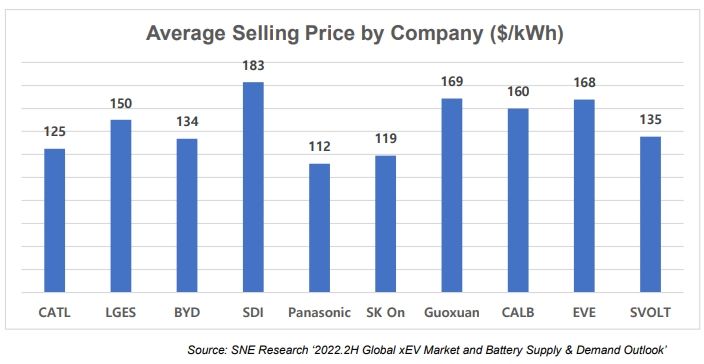 Analysis and forecasts on electric vehicles and batteries, including battery demand and supply outlook and selling price forecast till 2030, can be found in one of the upcoming reports published by SNE Research, with the title of '2022.2H Global xEV Market and Battery Supply & Demand Outlook.'
​​​