Global[1] Electric Vehicle Deliveries[2] in 2023 Expected to Record 13.77 Mil Units and a 30.6% YoY Growth, Leading to Possible Chance of Mild Downturn in EV Market
The total number of electric vehicles registered in countries around the world in 2023 is expected to reach approx. 13.77 million units. This is 1 million units[3] less than the previous forecast made in H1 this year, with CAGR also downwardly modified from 36.4% to 30.6%.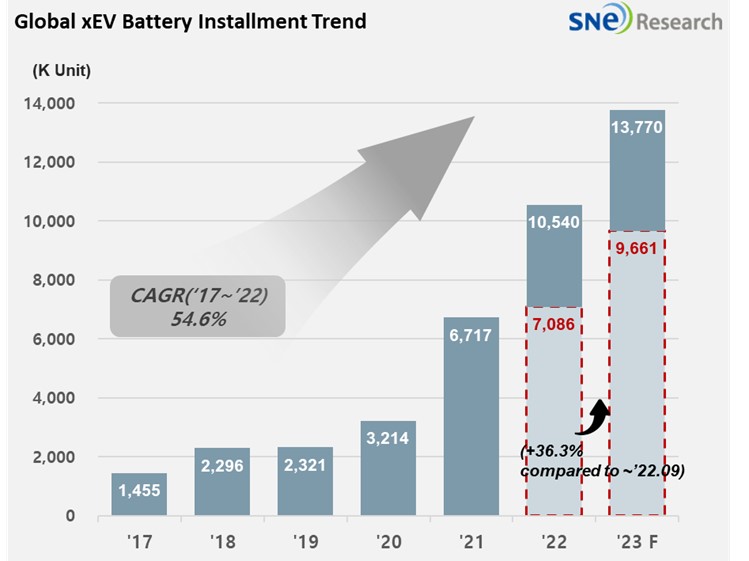 (Source: 2023 Nov Global EV & Battery Quarterly Forecast, SNE Research)
​


(Source: 2023 Nov Global EV & Battery Quarterly Forecast, SNE Research)
As the initial stages of EV market have passed, China and some of the European regions seem to start crossing the chasm with their market growth slowing down. Major reasons for the chasm are economic recession due to high interest rate and the base effects of pandemic. In the midst of economic recession, the high prices of electric vehicles are coupled with reductions in electric vehicle subsidies and charging infra shortage, significantly shrinking consumer confidence in electric vehicles which is expected to continue to 2024. In addition, the potential demand during the pandemic from 2021 to 2022 has almost lost its influence in 2023, accelerating the slowdown in the end.​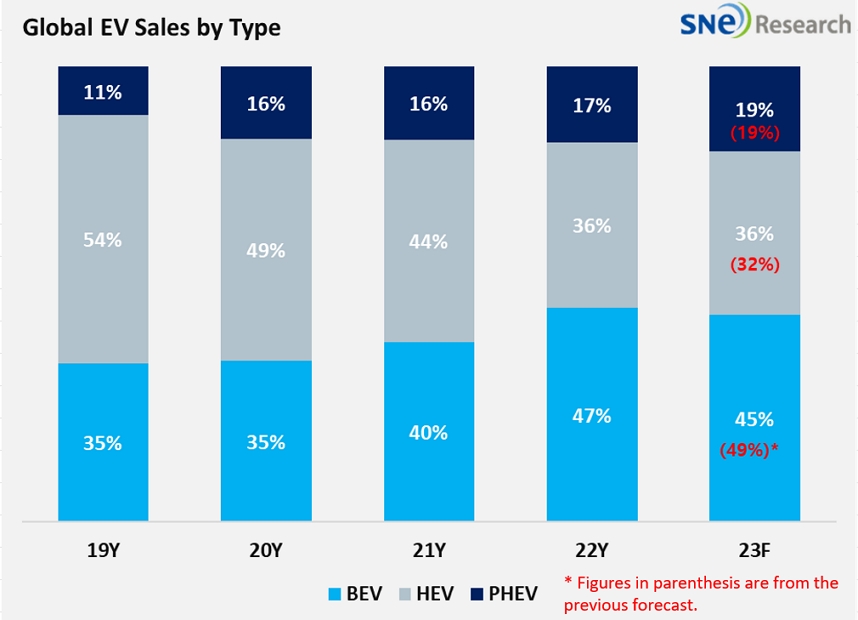 (Source: 2023 Nov Global EV & Battery Quarterly Forecast, SNE Research)
The EV penetration rate in 2023 is also expected to be 16.2%, declined by 1.3%p from the previous forecast, showing that there have changes in the ratios of different EV types sold in the market. BEV, which has been gradually expanding its share, is forecasted to account for 45%, a slight decline from the previous forecast, 49%. This can be interpreted that BEV sales would be affected by a decline in the BEV share in China where the government EV subsidy is reduced and even terminated. In case of Europe, the ratio of HEV has increased whereas that of BEV relatively declined. Across the entire regions, due to the high price of BEVs, high charging cost, and charging infra shortage, the downward trend in PHEV and HEV hasn't turned out to be as much serious as previously expected.
The EV market, posting a triple-digit growth in 2021 and a high growth of 60% in 2022, seems to enter the market maturity period and remain at 30% of growth in the short run. The year of 2024 is also projected to see a rather slow growth at around 20%. Even in 2025, there exist several uncertainties – fluctuations in energy and mineral price, policy changes, consumer confidence, delayed investment in scaling-up – which makes it difficult to come up with an accurate market forecast.
However, as the world has a strong will to achieve the carbon neutrality, governments have been quick to establish eco-friendly policies on their own, and in accordance with the state policies, major companies in the EV and battery industry have been pushing forward with their electrification strategies. At the moment, the entire industry is getting its breath back after pulling through overheated competitions, and in the mid to long run, the EV market would be able to keep its growth momentum.​
---
[1] The xEV sales of 80 countries are aggregated.
[2] Based on electric vehicles (BEV+PHEV) delivered to customers and registered during the relevant period
[3] Declines (approx. 30%) are based on the downward adjustment of data by taking the export volume of some Chinese companies from the Chinese domestic volume from Jan 2022 to Sep 2023.