From Jan to Sep in 2023, Non-China Global[1] Electric Vehicle Deliveries[2] Posted 4.066 Mil Units, a 41.3% YoY Growth
- Tesla top the list while Hyundai-KIA ranked 4th in the non-China EV market
From Jan to August in 2023, the total number of electric vehicles registered in countries around the world except China was approximately 4.066 million units, a 41.3% YoY growth.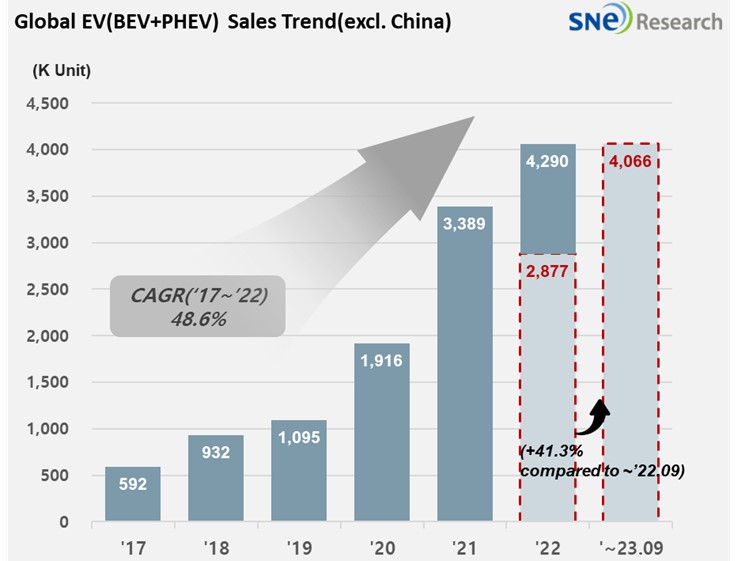 (Source: Global EV & Battery Monthly Tracker – October 2023, SNE Research)
From Jan to Sep 2023, if we look at the number of electric vehicles sold by OEM groups in the non-China market, Tesla kept the top position with a 50.8% YoY growth. Its growth was driven by the price-reduction strategy carried out from earlier this year and the tax credit offered to Model
3/Y by the US government as part of the US IRA
. Tesla is going to launch the facelift version of Model 3 which has attracted many EV consumers. The VW Group, where Volkswagen, Audi, and Skoda belong to, recorded a 406% YoY growth, taking the 2

nd

position on the list. The growth of VW Group was led by favorable sales of Audi Q4 and Q8 E-Tron as well as ID.4, a first, non-American EV model qualified for the tax credit offered by the US government. The 3

rd

place was taken by the Stellantis Group boasting solid sales of both BEV and PHEV such as Fiat 500e, Peugeot e-208, and Jeep Wrangler 4xe.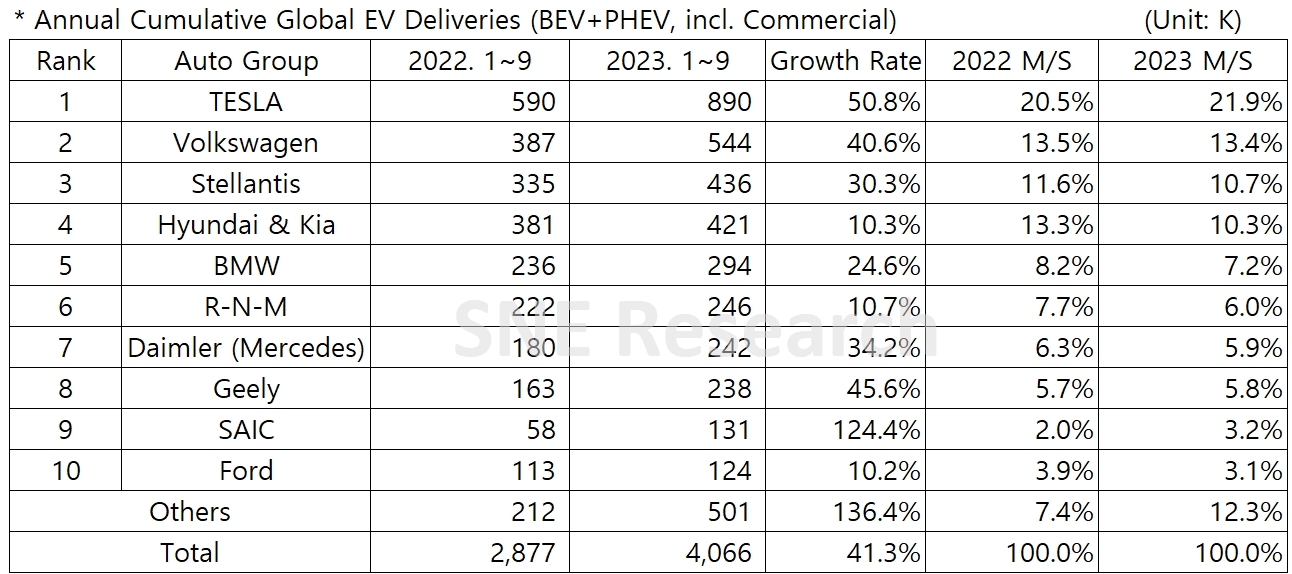 (Source: Global EV & Battery Monthly Tracker – October 2023, SNE Research)
Hyundai-KIA Motor Group posted a 10.3% YoY growth supported by sales of its main models such as IONIQ 5/6 and EV6 as well as plug-in hybrid models like Tuscan and Sportage that are highly popular in overseas markets. The group, breaking the highest profit record, as profit in a third quarter, in Q3 this year, announced that it would focus on expanding its market share by enhancing the global awareness of its EV-dedicated brand, IONIQ, and increasing the sales of eco-friendly vehicle through strengthening the hybrid line-up.

(Source: Global EV & Battery Monthly Tracker – October 2023, SNE Research)
By region, in the European market, favorable sales made by the VW Group and Stellantis Group played a major role in leading the growth. At the same time, MG (Morris' Garage) under the SAIC's umbrella sold approx. over 93k units in Europe only within this year, proving that it has successfully settled down in the European market. MG's major model is MG-4, regarded as a competitor to VW's ID.3, a small-size, EV hatchback. It can be analyzed that MG's strategy to introduce electric vehicles at affordable prices has worked in the European market, coupled with a shift in the trend of EV market from performance to cost-effectiveness. The North American market has maintained its upward momentum based on the increasing sales affected by an aggressive discount policy implemented by Tesla. The Asian market had its growth led by solid sales made by Hyundai Motor Group.
BYD, successfully setting its image as a representative, high-end EV brand in the China market, has secured its portion of market. Promoting its price competitive advantage, quality, and safety – that is verified by customers in China, BYD started to work on entering the global market. In particular, BYD's Yuan Plus (Atto 3) has been sold more than 30k units in the Asian market (excl. China) till Q3 this year, proving that BYD has been gradually expanding its shares in regions other than China.
---
[1] The xEV sales of 80 countries are aggregated.
[2] Based on electric vehicles (BEV+PHEV) delivered to customers or registered during the relevant period