From Jan to September in 2023, Non-Chinese Global[1] EV Battery Usage[2] Posted 228.0GWh, a 54.9% YoY Growth
- K-trio accounted for 48.3% M/S
Battery installation for global electric vehicles (EV, PHEV, HEV) excluding the Chinese market sold from January to September 2023 was approximately 228.0GWh, a 54.9% YoY growth.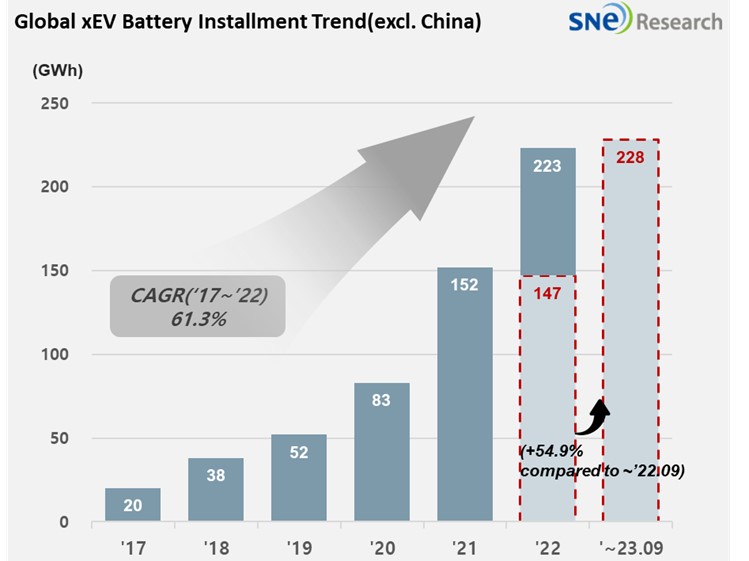 (Source: Global EV and Battery Monthly Tracker – October 2023, SNE Research)
In the ranking of battery usage for electric vehicles, the K-trio battery makers all ranked within the top 5. LG Energy Solution maintained the top position with a 49.2%(64.1GWh) YoY growth. While SK On took the 4th place with 13.7%(24.4GWh), Samsung SDI followed right behind with a 41.4%(21.6GWh) growth. CATL in China rapidly expanding its market share, recording a trip-digit growth of 104.9%(64.0GWh) for consecutive months.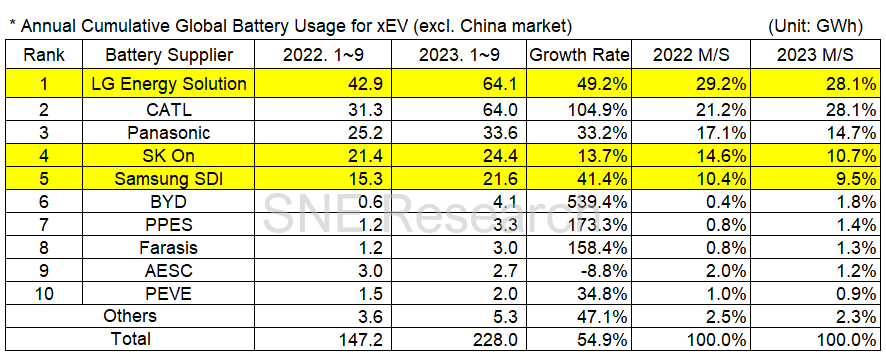 (
Source: Global EV and Battery Monthly Tracker –
October
2023, SNE Research
)
The combined shares of K-trio recorded 48.3%, a 5.8%p decline from the same period of last year, but their battery usage was in an upward trajectory. Their growth was mainly affected by favorable sales of electric vehicle models equipped with batteries of each company. Samsung SDI kept its growth momentum based on the increasing sales of BMW i4/i7 and Audi Q8 e-Tron as well as a decent sales of Rivian R1T/R1S/EDV and FIAT 500. SK On posted a growth thanks to solid sales of Hyundai IONIQ 5, KIA EV6, and Mercedes EQA/B. Recently, as it has been reported that SK On reached a decent level of accomplishment in developing prismatic and LFP battery, which is highly sought after in the market, the company is expected to see a growth in its market share mainly in the North American region. LG Energy Solution posted the highest growth among the K-trio, driven by favorable sales of Tesla Model 3/Y, VW ID. Series, and Ford Mustang Mach-E that are highly popular in Europe and North America. GM, continuously witnessing a slowdown in sales, is reported to have a plan to expand its EV line-up and production volume in earnest, based on battery produced by Ultium Cells, its joint venture with LG Energy Solution. As GM is going to launch electric vehicles such as Blazer EV sold at affordable prices, it is expected to be leading the growth of LG Energy Solution.
Panasonic registered the battery usage of 33.6GWh, 33.2% up from the same period of last year. Panasonic, who is one of the major battery suppliers to Tesla, has most of its battery usage installed in Tesla models in the North American market. Tesla Model Y of which sales rapidly soared compared to the same period of last year has driven the growth of Panasonic.
Along with CATL, some of the Chinese companies showed even higher growth in the non-China market than in the domestic market of China, rapidly expanding their presence in the global market. CATL's battery is installed to Tesla Model 3/Y
(made in China and exported to Europe, North America, and Asia) as well as vehicles made by major OEMs such as
BMW, MG, Mercedes and Volvo. Recently, a new KONA model by Hyundai and Ray EV model by KIA have CATL's battery inside, proving that the Chinese battery giant has been gradually influencing the domestic market in Korea.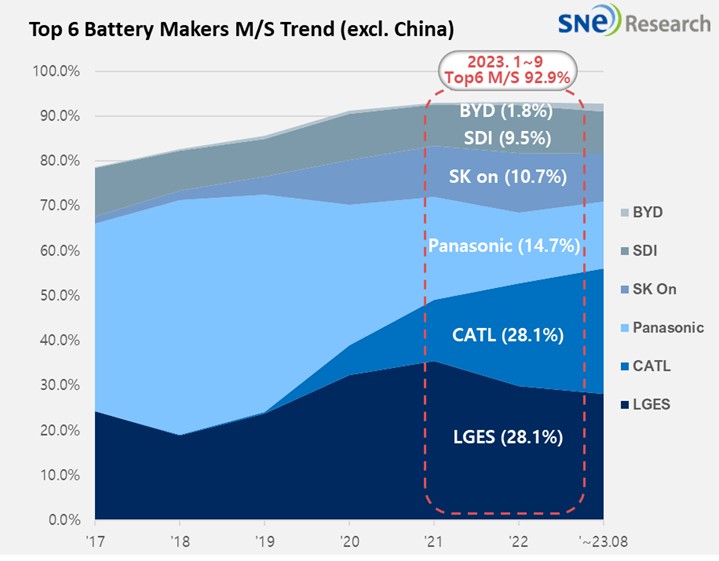 (
Source: Global EV and Battery Monthly Tracker –
October
2023, SNE Research
)
One of the major reasons for recent slowdown in the global EV market is pointed out as high interest rate and high price of electric vehicles. Coupled with the sentiment of consumers who seek for cost-effective vehicles, a recent tendency to move toward LFP battery with price competitiveness is expected to increase the ratio of entry-level EVs sold among the entire EV sales. Particularly in Europe, where the usage of LFP battery is low, attentions should be drawn to changes in the market shares of Chinese cell makers, having a strong will to enter overseas markets, and possibly consequential changes in the usage of LFP battery.
​

---
[1] The xEV sales of 80 countries are aggregated. (excl. the China market).
[2] Based on battery installation for xEV registered during the relevant period.