Title: Production Capacity of Global EV Battery Makers Forecasted to Reach 8,247GWh in 2030
According to a press release by SNE Research on May 13, total production capacity of global EV (incl. ESS) secondary battery makers is expected to grow by 27% annually; from 994GWh in 2021 to 8,247GWh in 2030.

As of 2021, CATL in China with 161 GWh took the lead in the production capacity race among battery makers in the world, followed by LG Energy Solution (hereinafter, LGES) with 140GWh.
SNE Research, one of the leading battery market research firms in Korea, forecasts that the production capacity of CATL will reach 1,285GWh in 2030, securing its top position in the industry. Other market players are expected to have their production capacities as follows: LGES 778GWh; Svolt 632GWh; CALB 619GWh; Guoxuan 523GWh; SK On 465GWh (officially announced production capacity of 500GWh); and Samsung SDI 374GWh.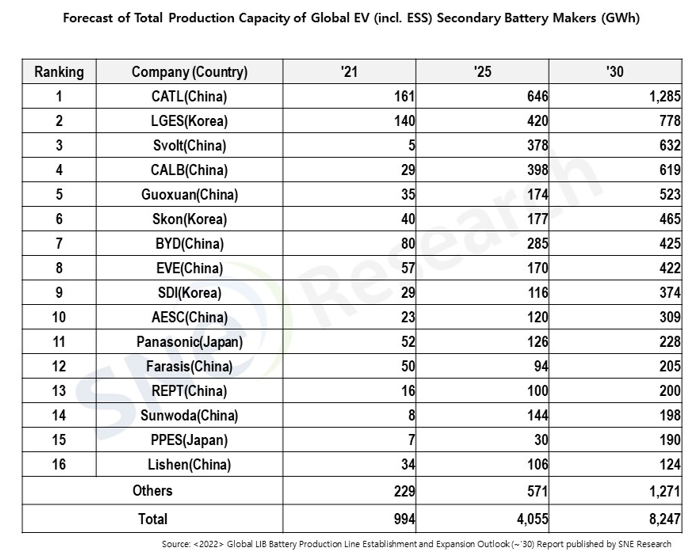 If we look at the 2030 production capacity forecast by nation, the Chinese companies (CATL, BYD, EVE, Farasis, etc.) are expected to take up 63%, while the K-trios (LGES, Samsung SDI, and SK On) are forecasted to follow with 20% of combined market share. Battery makers in Europe, including Northvolt, Freyr, ACC, etc., are expected to account for 10% of the global production capacity in 2030 after starting their full-scale production from 2025.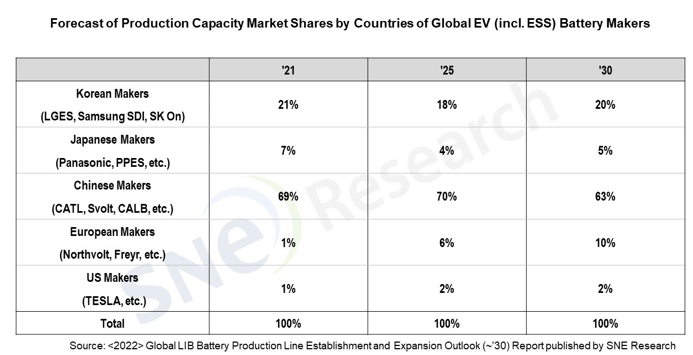 A SNE Research official said, "We expect to see a large number of newcomers entering in the EV battery market for the next decade. Except the Tier-1 makers in Korea, China, and Japan, with matured experiences in mass production, some of those newcomers are expected to go through hard times especially related to difficulties in mass production."