From Jan to July in 2023, Non-Chinese Global[1] EV Battery Usage[2] Posted 168.5GWh, a 56.8% YoY Growth
- K-trio accounted for 48.3% M/S, with LGES keeping the top position
Battery installation for global electric vehicles (EV, PHEV, HEV) excluding the Chinese market sold from January to July 2023 was approximately 168.5GWh, a 56.8% YoY growth.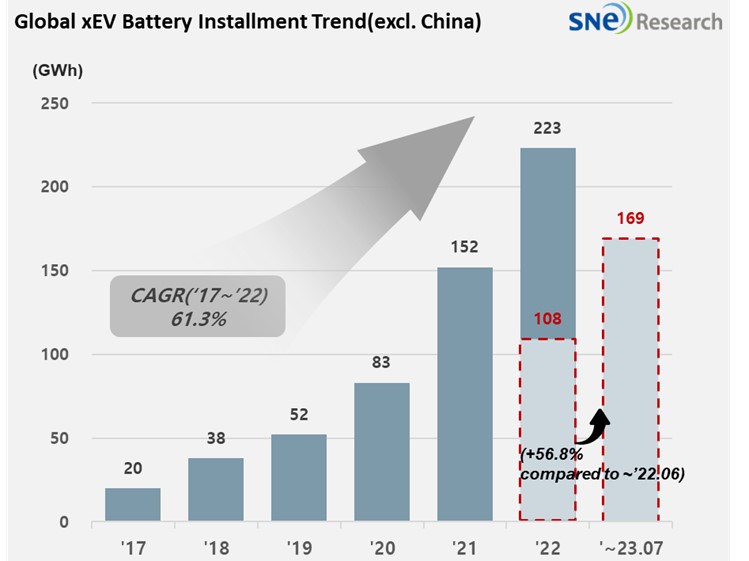 (Source: Global EV and Battery Monthly Tracker – August 2023, SNE Research)
In the ranking of battery usage for electric vehicles, the K-trio battery makers all entered the top 5. LG Energy Solution remained No. 1 with a 55.0%(47.5GWh) YoY growth, while SK on ranked 4th with a 15.9%(18.9GWh) YoY growth and Samsung SDI ranked 5th with a 32.6%(14.9GWh) YoY growth. CATL showed a massive growth of 109.3%(46.4GWh), following close behind LGES.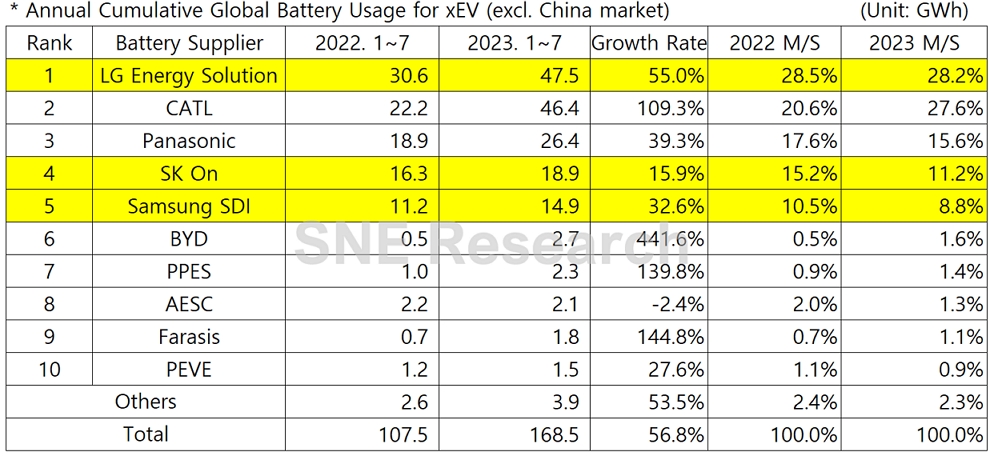 (Source: Global EV and Battery Monthly Tracker – August 2023, SNE Research)
The combined shares of K-trio recorded 48.3%, a 5.9%p decline from the same period of last year, but their battery usage was in an upward trend. Their growth was mainly affected by favorable sales of electric vehicle models equipped with batteries of each company. LGES kept its growth momentum thanks to the increasing sale of Tesla Model 3/Y and Ford Mustang Mach-E. SK on was also in an upward trajectory based on the popularity of Hyundai IONIQ 5/6 and KIA EV6 in the global market. Samsung SDI also saw a growth driven by Rivian R1T, BMW i4/X, and Fiat 500electric.
Panasonic registered 26.4GWh, a 39.3% YoY growth. As one of the major battery suppliers to Tesla, most of Panasonic's battery usage was those installed to Tesla in the North American market. In particular, Model Y, of which YoY growth in sales recorded over 65%, fueled the growth momentum of Panasonic. PPES, a joint venture between Toyota and Panasonic, recorded 2.3GWh, showing a high growth of 139.8%. The steady sales of RAV4 PHEV and the installation of Panasonic battery to Toyota's BEV model, bZ4X, also led the growth of the Japanese battery maker.
Along with CATL, some of the Chinese companies have boasted an explosive, triple-digit growth even in the non-China market, gradually expanding their presence on the global stage. CATL ranked 2nd in the non-China market thanks to favorable sales of Tesla Model 3/Y(made in China and exported to Europe, North America, and Asia), KIA Niro BEV, and Volvo MG-4. As it has been reported that CATL's battery is installed to a new KONA model made by Hyundai, it is forecasted that CATL's share in the non-China market may further expand. BYD, showing the highest growth among the top 10 companies, has drawn a great popularity in the Chinese domestic market based on its price competitiveness earned through vertical integration of SCM such as in-house battery supply and vehicle manufacturing. Taking advantage of its price competitiveness, targeting the Chinese domestic market, and product quality, BYD has been seeing a rapid increase in its share in the markets of Europe, Asia, and Oceania.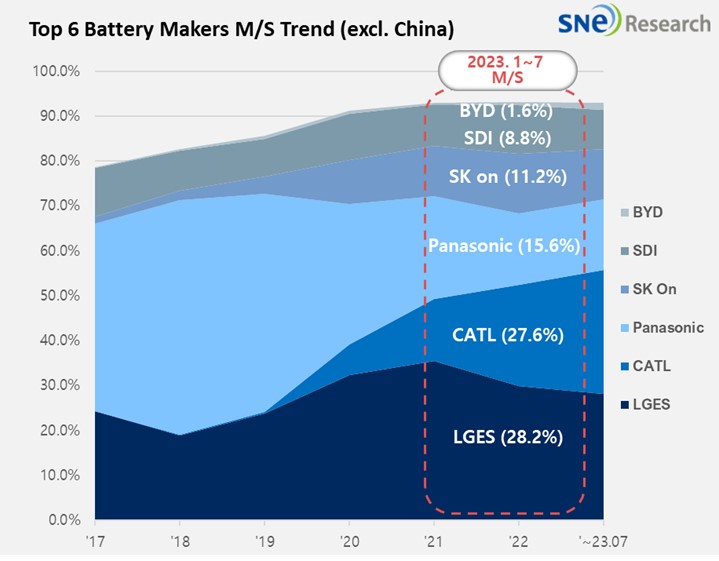 ​(Source: Global EV and Battery Monthly Tracker – August 2023, SNE Research)
Driven by a strong will to enter overseas markets, the Chinese companies have continuously posted a high growth in the non-China market. In particular, CATL has seen a sharp increase in its market share, threatening LG Energy Solution on the top position. As global OEMs such as Tesla, Volkswagen, Ford, and Stellantis recently announced to adopt more LFP battery, the dynamics of market seemed to tilt towards LFP battery with high price competitiveness. In addition, CATL enhanced the performance competitiveness of LFP battery by unveiling the 4C superfast charging LFP battery. To be specific, attentions should be paid to changes in the market shares of Chinese cell makers and usage of LFP battery especially in Europe where LFP battery usage is low and entrance barriers are lower than those of the US.

---
[1] The xEV sales of 80 countries are aggregated. (excl. the China market).
[2] Based on battery installation for xEV registered during the relevant period.