From Jan to July in 2023, Global[1] Electric Vehicle Deliveries[2] Recorded 7.373 Mil Units, a 41.2% YoY Growth
- Tesla's cumulative sales in 2023 exceeds 1 million units
From Jan to June in 2023, the total number of electric vehicles registered in countries around the world was approximately 7.373 million units, a 41.2% YoY increase.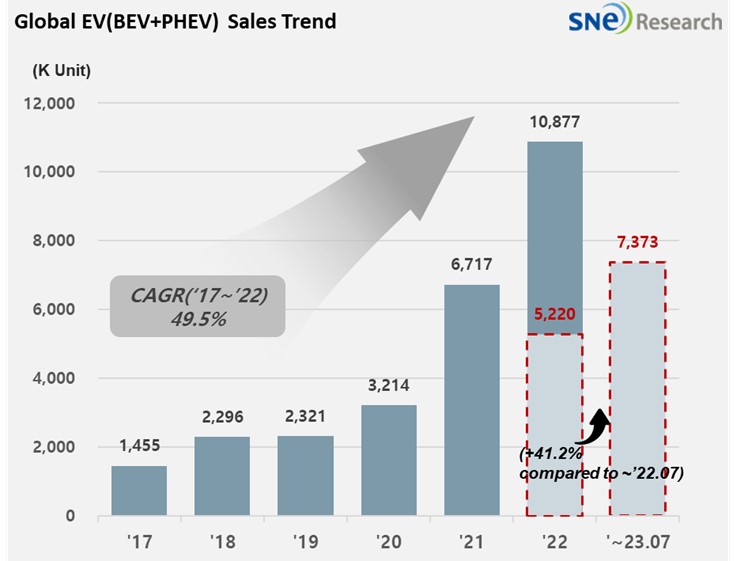 (Source: Global EV and Battery Monthly Tracker – Aug 2023, SNE Research)
If we look at the EV sales by major OEMs from Jan to July in 2023, BYD, the top EV seller from China recorded a 92.7% YoY growth, keeping the global No. 1 position. In the Chinese domestic market, the sales of Song, Yuan Plus(Atto3), Dolphin, and Qin models were high, and among them, the overseas sales of Yuan Plus(Atto3) increased significantly, accelerating the increase of BYD's global market share. Among the top 10 OEMs, BYD is the only group who took up over 20% of the market share, gradually empowering itself and its brand influence in the market. Tesla, who heated up the price reduction competition in the EV market, has had its cumulative sales of this year exceed 1 million units by reinforcing its aggressive price reduction policy. Tesla kept the 2nd position on the rank, following BYD, with a 62.0% YoY growth. Tesla had a favorable sale of Model 3 and Y. Especially, the sale of Model Y has almost doubled compared to the same period of last year. As it is reported that Tesla would make Project Highland, the face-lift of Model 3, from the Shanghai Gigafactory in this September, deliveries are expected to start in this October. SAIC on the 3rd place of the list saw a 23.3% YoY growth based on the sales of Hongguang MINI EV in the Chinese domestic market and those of MG-ZS and MG-4 in the overseas market.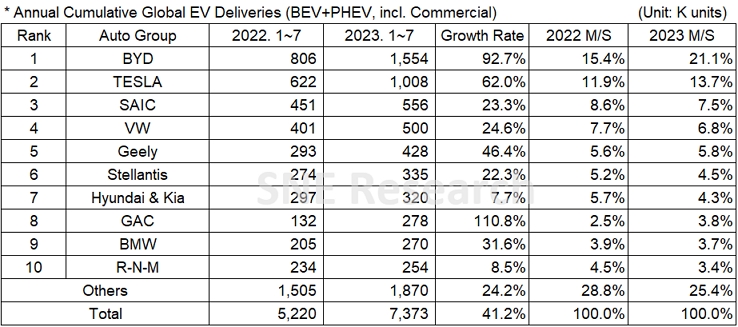 (Source: Global EV and Battery Monthly Tracker – Aug 2023, SNE Research)
Hyundai-KIA Group recorded a 7.7% YoY growth, led by IONIQ 5 and EV 6 to which E-GMP platform is installed. The Group, who broke its record in profit in the 1st half of this year, is expected to gradually expand its global market share as the global sales of IONIQ 6, the All-New Kona Electric, and EV 9 gets in full swing. In addition, with EV 5 unveiled at the Chengdu Motor Show 2023 on Aug 25th, the Group officially reaffirmed its strong willingness to take another leap in the Chinese market. Against this backdrop, it seems to be noteworthy whether the Group would have any changes in its shares in the Chinese market.



(Source: Global EV and Battery Monthly Tracker – Aug 2023, SNE Research)
By region, China was outstanding in terms of market share, taking up 58.7% of the global share. Currently, the growth of China is led by BYD who has already achieve vertical integration with which it can manufacture battery itself as well as electric vehicles. Based on its price competitiveness earned from the vertical integration, BYD has sold approximately 1.51 million units among the entire EV sales of 4.33 million units within China this year, which can be said that, out of 3 electric vehicles sold in China, one is made by BYD. In terms of growth in the European EV market, favorable sales by Stellantis Group and Volkswagen Group have been major drives. In the North American market, propped up with massive sales volume by Tesla, a higher growth was recorded compared to the Chinese and European markets. Whilst local OEMs in each region have captured strong holds, France recently announced of EV subsidy reform. With the French EV regulations added to the US IRA and EU's CRMA, it seems global trade barriers would become higher and higher, making it more favorable for local EV makers to run their business.

---
[1] The xEV sales of 80 countries are aggregated.
[2] Based on electric vehicles (BEV+PHEV) delivered to customers or registered during the relevant period