Non-China Global[1] Electric Vehicle Deliveries[2] During Q1 2023 Recorded 1.183 million Units, a 31.3% YoY Growth
- Tesla took No. 1 place and Hyundai-KIA ranked 3rd in the non-China EV market
The total number of electric vehicles registered in countries around the world except China during Q1 2023 was approximately 1.183 million units, posting a 31.3% YoY growth.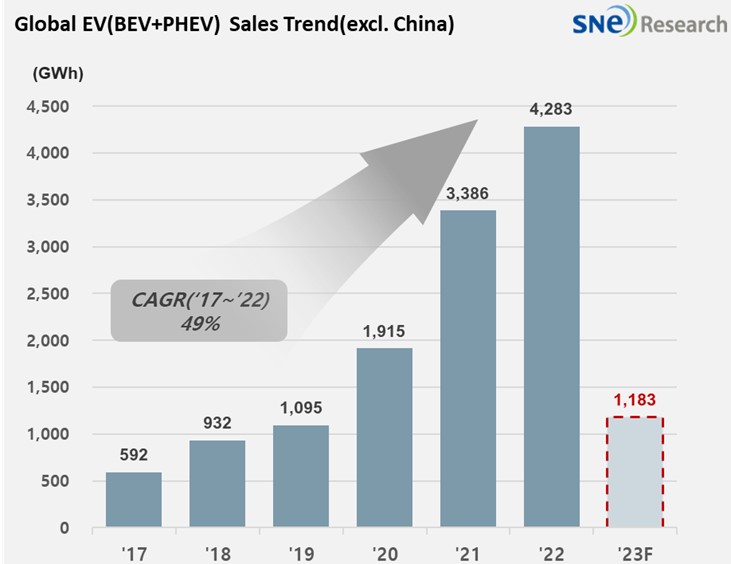 (Source: Global EV & Battery Monthly Tracker – April 2023, SNE Research)
​
During Q1 2023 in the non-China market, the sale of Tesla's main models – Model 3 and Y – were a major driver behind the growth of Tesla on No. 1 position in the ranking with a 41.7% YoY growth. However, according to the Q1 earnings report unveiled by Tesla, its net profit dropped 24.0% from the previous year. It can be interpreted that due to price reduction measures taken by Tesla during the period in question have led to increases in sales but ultimately a decline in net profit. The Volkswagen group, where Volkswagen, Audi, and Skoda belong to, recorded a 35.0% YoY growth and ranked 2
nd
. The growth of VW group was led by steady sales of Audi E-Tron line-up along with ID.4, a first, non-American EV model which was qualified for the EV tax credit offered by the US government.

(Source: Global EV & Battery Monthly Tracker – April 2023, SNE Research)
​
The 3rd place was taken by Hyundai-Kia Motor Group, which earned the biggest operating profit in history as for Q1. Due to seasonal factors, such as changes in EV subsidy policies, often found in Q1 that are unfavorable to selling eco-friendly vehicles, the EV sales have seen a 1.8% YoY degrowth. However, in the coming 2nd quarter, which is regarded as a seasonal high season, the market is expected to be in an upward trajectory again as KONA(SX2) Electric and EV9 are said to be released shortly and IONIQ 6 is likely to be sold more in the global market.
The SAIC group, focusing on the Chinese domestic market, safely entered the top 10 on the list, propped up with a huge increase in its sale of MG brand's MG-4, MG-5, and MG-ZS models in Europe.

(Source: Global EV & Battery Monthly Tracker – April 2023, SNE Research)
​
As SAIC, NIO, Geely, and BYD, whose quality and reliability have been proved in the China market, have been trying to go beyond the domestic market further to the global one based on their safe and quality vehicles, attentions should be paid to whether they would bring about a sea change in the non-China EV market.
---
[1] The xEV sales of 80 countries are aggregated (excl. China).
[2] Based on electric vehicles (BEV+PHEV) delivered to customers or registered during the relevant period