From Jan to Mar 2023, Non-Chinese Global[1] EV Battery Usage[2]
Posted 64.2GWh, a 45.3% YoY Growth
- The K-trio recorded 49.0% M/S combined, with LGES Keeping No. 1 Position
Battery installation for global electric vehicles (EV, PHEV, HEV) excluding the Chinese market sold from January to March 2023 was approximately 64.2GWh, a 45.3% YoY growth.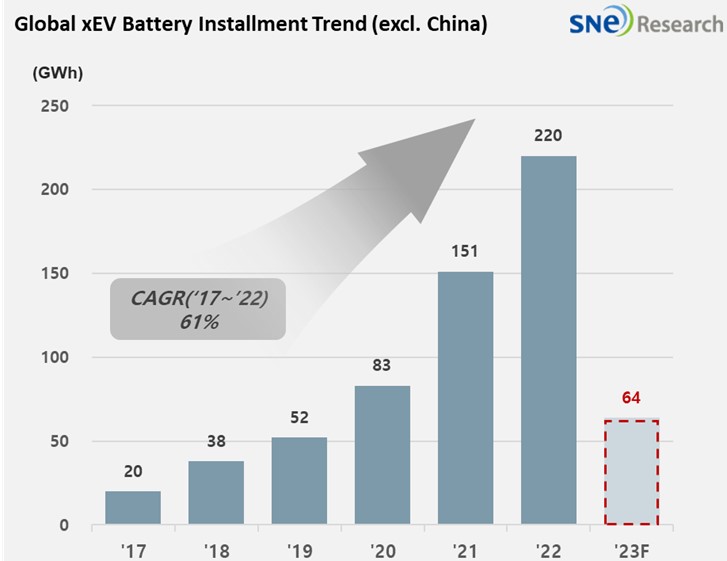 (Source: Global Monthly EV & Battery Forecast – April+ 2023, SNE Research)
I
n the ranking of battery usage for electric vehicles, the three Korean battery makers all safely entered in top 5 on the list. LG Energy Solution stayed on top of the list with a 38.8% YoY growth (18.0GWh), while SK-On ranked 4

th

with a 4.6% YoY growth (7.0GWh) and Samsung SDI ranked 5

th

with a 54.4% YoY growth (6.5GWh). CATL from China kept the 2

nd

position on the list, recording a double-digit growth rate of 79.6% (15.6GWh) even in the non-Chinese market.

(
Source: Global EV and Battery Monthly Tracker – April 2023, SNE Research
)
Although the combined market shares of the K-trio recorded 49.0%, a 5.0%p decline from the previous year, the total usage of their battery actually increased.
Their growth trend was mainly affected by strong sales of electric vehicle models equipped with batteries of each company.
LGES kept its growth momentum thanks to the increasing sale of Tesla Model 3/Y, VW ID.3/4, and Ford Mustang Mach-E. SK-On showed a high growth following its sweeping popularity of Hyundai IONIQ 5 and KIA EV6 in the global market. Samsung SDI was also in an upward trend based on the sale of BMW i4, iX, Fiat 500, and Rivian R1T/S.
Panasonic, as one of the major battery suppliers to Tesla, managed to keep a double-digit growth which was mainly led by the sales of Tesla Model 3/Y and Toyota bZ4X.
Together with CATL, some of the Chinese companies have also expanded their market shares in the global market beyond the Chinese domestic market, showing a high growth even in the non-Chinese market. CATL ranked 2

nd

in the non-China market thanks to strong sales of Tesla Model 3
(made in China and exported to Europe, North America, and Asia),
Volvo C40/XC40 Recharge, KIA Niro, and MG-4. As it has been known that CATL's battery may be installed to a new KONA model made by Hyundai, it is expected that CATL's share in the non-China market would further expand. BYD, exhibiting the highest growth among the top 10 companies, has seen a rapid increase in its share in the markets of Asia and Oceania based on its price competitiveness and decent quality targeting the Chinese domestic market. BYD started to see a growth even in the European market. Farasis has also continued a steady growth in 2023 thanks to the favorable sales of Mercedes EQ line-up, exported to Europe, which is very popular among the global customers.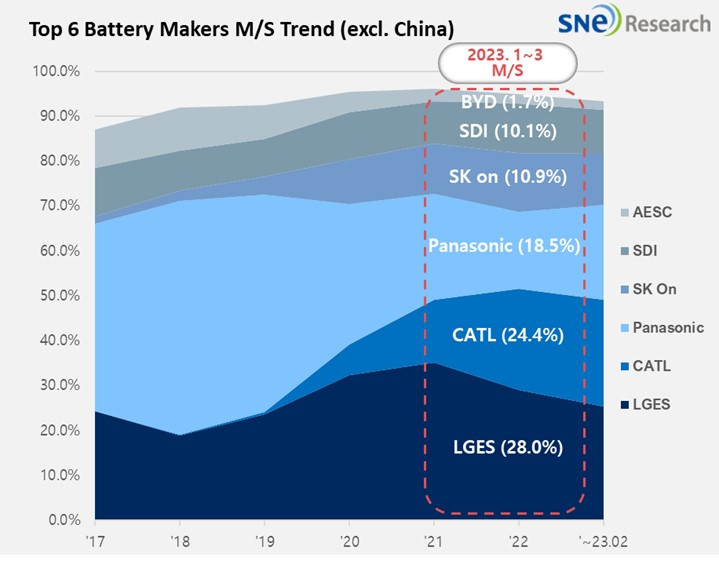 (
Source: Global EV and Battery Monthly Tracker – April 2023, SNE Research
)
Following 2022, LG Energy Solution maintained No. 1 position in the non-Chinese market in 2023, but the Chinese companies including CATL have been rapidly expanding their shares in the market. With the implementation of the US Inflation Reduction Act (IRA), it's fair to say that the Korean battery makers have expected to benefit from the Act which was designed to reduce the dependence on China regarding key battery materials. However, amidst detour measures taken by the Chinese companies like joint investment ventures and another looming uncertainty, CRMA in Europe, attentions should be paid to possible changes in the global market shares of K-trio in future.
---
[1] The xEV sales of 80 countries are aggregated. (excl. the China market).
[2] Based on battery installation for xEV registered during the relevant period.